Blue, trade name of Aviva Life Insurance Company Limited, has won the highest recognition of Platinum Award for Metro Finance's "Hong Kong FinTech Impetus Award", which was Blue's first award since launch in September 2018.
Mr. Charles Hung, CEO & Executive Director of Blue, said, "We are delighted to receive the first award for Blue in less than 3 months since our launch. It is a testament to our achievements as Hong Kong's first digital life insurer." Held for the first time, the "Hong Kong FinTech Impetus Award" honours organisations that take forward the FinTech development in Hong Kong. Blue has demonstrated outstanding capabilities in delivering FinTech innovations to revolutionise traditional insurance experience.
Blue provides an easy-to-use online journey where customers may answer a few simple health questions to apply for the coverage they need. They are also allowed to complete the Know-Your-Customer (KYC) process online, including verification with selfies. In addition, Blue has launched the market's first-of-its-kind cognitive game Blue Guru that capitalises on Artificial Intelligence (A.I.) to engage and reward participants.  
"At Blue, we are committed to leveraging technologies to bring innovative experiences to customers," Mr. Hung said.
The award panel consists of experts from multiple corporations and professional organisations.  Award winners were evaluated based on their contribution in eight categories – A.I. Application, Blockchain, Cyber Security, Data Usage, Clouding, Online Underwriting, Mobile Technology and Payment – with a stringent judging process.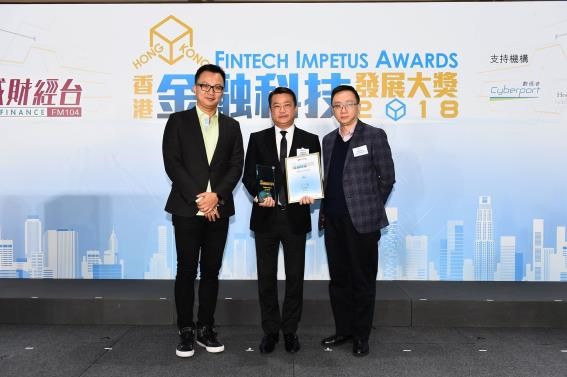 Mr. Charles Hung, CEO & Executive Director of Blue, receives the "Hong Kong FinTech Impetus Award – Platinum Award" organised by Metro Finance at the award ceremony.